If you think that planning a wedding post pandemic is difficult, let me share with you my own wedding story. It was two weeks before my wedding date, when I was told that I needed to condense my wedding guest list to just our immediate families, or postpone the wedding all together.
With that short of notice and the fact that we had a lot of family coming in from out of state, both of these choices was not an option for us. So I made the the decision to relocate and re-plan my wedding two weeks before the scheduled day.
As a COVID bride, planning a wedding in a time of unpredictability was stressful beyond just planning even a normal wedding. But while we have entered in a post pandemic age, it makes me think about how newly engaged couples are fighting against the scarcity and cost inflation of today's wedding industry.
In this post, I will be sharing with you 10 wedding vendors' advice to planning your wedding in a post pandemic age.
Let's get right into it!
---
Planning a Wedding Post Pandemic Increases the Value of the Wedding Day Experience
If we have learned anything from being quarantined is that we greatly value physical experiences with other people. And because we have been deprived of that for over two years, the value of having a wedding with all your wedding guests has greatly increased. Because weddings brings people together.
Visually
"When creating great experiences, it's not so much about doing what guests expect. Instead, it's about creating a design that clearly meets their needs at the instant they need it." – Jared Spool
In the Big Details
Luxury Event Furniture Rental & Design Studio Jen with Sacramento Event Co encourages couples who are planning their wedding in a post pandemic age think about the bigger picture when planning the visual experience of your wedding day.
"Planning a wedding is like putting a giant puzzle together, which is why it is best to begin the 'Event Design' process for a wedding about 8-10 months before your big day.
This gives your design team time to come to your venue /location, do a walk thru, take measurements, build mood boards, order stock as well as collaborate with the other vendors on color, layout and the final look.
Your design team will include more than just Rentals; Florists, Decorators, Lighting, Planners as well as the Venue will all have a large part to play in the final look for your big day.
So make sure you give these specialized teams of people time to create your Wedding Day dreams."
In the Small (not so small) Details
"Design is not just what it looks like and feels like. Design is how it works." – Steve Jobs
Sacramento based laser wedding signage expert Linda with Linda Wilmarth Designs shares her cutting-edge advice on the advantages of working with creatives who are local and not forgetting the little things that makes a big different on your guests' wedding day experience.
"Weddings are such a magical time for a couple and signages help elevate the overall experience for them and their guests.
Do you ever touch a menu or place card at a table setting and think to yourself:
"Oh. This feels nice." or " This is so pretty."
That is exactly what stationary and signages can provide.
A photographer can capture subjects beautifully but without pretty subjects, they would just be photos of a plate and utensils. I understand planning a wedding can be overwhelming but when you work with a great signage person, they will guide you through the process and help make the items that compliment your wedding aesthetics.
Since this year will be one of craziest wedding season ever, I would suggest nailing down your signage person ASAP. There really isn't enough of us out there to do all the projected weddings for this year. Especially signage folks in the Northern California area.
Working with someone locally has it benefits. We can collaborate on larger items and you don't have to worry about shipping from online stores. If something goes wrong, we are in town and can fix it quickly. We also show up and set up the signage to make sure everything looks perfect!"
Cosmetology
The reality of hiring a wedding hairstylist or makeup artist is startling. Not only is there a limited amount of well experienced wedding beauty artist specialists, but the possibility in booking your favorite one –competitive.
Modesto based wedding makeup and hair stylist, Rebecca Murphy, shares the importance in researching your beauty vendors despite the scarcity.
"A lot has changed in the past two years, especially in the hair & makeup industry! As costs continue to go up with supplies, traveling expenses, and inquiries, our prices have had to increase to make it sustainable.
Before Covid, choosing an artist was flexible and simple.
You could wait to book after your trial and try out multiple artists at your leisure.
Now brides are contacting two years in advance without a trial.
I love my job and always want to take away any stress I can from my couples. So much goes into planning and I want my bride to feel the most confident and beautiful on her day.
Yes, a lot has changed in two years, but one thing that will never change is my passion for my job and helping brides have the greatest day marrying their soulmate!"
Sacramento based hair and makeup artist, Michele DeeAnn, speaks to the engaged brides about not waiting until the last minute.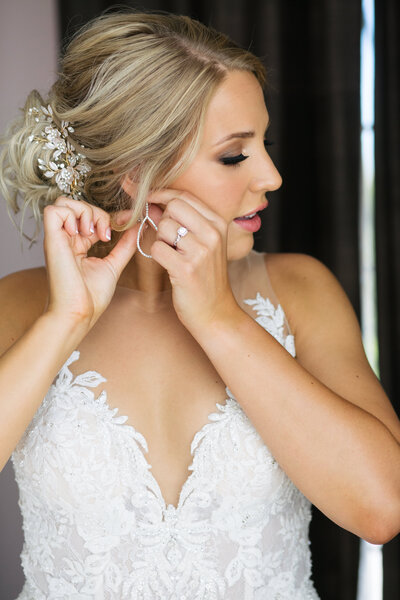 "The wedding game has been flipped upside down in the last two years! Everything has felt unpredictable, and with uncertainty comes caution.
In the pre-Covid wedding world, brides were booking 9-18 months in advance for beauty services (we would secretly panic for the brides who would wait until 6 months out to book).
This puts the bride at such a disadvantage, and it's so sad when I spend so much of my admin time sending regrettable emails to dozens of brides that their date is taken…by myself and everyone I partner with.
It's not too early to reach out and inquire if you are wanting to put together a stellar vendor team! Xoxo."
Audibly
DJs are the entertainers. The best ones aren't just pressing play on your music playlist. They are conductors of your wedding reception symphony that tells you and your guests what to pay attention to, while also reminding you of why your hearts are filled with joy.
Wedding DJ specialist Joe with SJ's Disc Jockey, warns couples to choose your favorite and not just who is available despite the scarcity of quality DJs.
"In my opinion, pre-pandemic, we were a DJ rich wedding community.
The pandemic forced many DJs out of the business, or into a part-time role as they pursued other employment.
The end result has been a scarcity of talent, and enough DJs to handle what is slated to be the busiest wedding season in decades.
We have an industry saying, 'Choose your favorite, not what's left.'"
Dining
Food is the necessary activity and event of any wedding that everyone can enjoy, bond over, and does together. Julie with Jackson Catering reminds engaged couples that it's never too early to book your wedding caterer.
"Planning a wedding in a Post-Pandemic world has both it's pros and cons.
The pros are that your vendors have survived through the pandemic and have proven to be flexible through tough times. The Cons however, all those weddings that were scheduled to happen during 2020-21 have been pushed out and are now what's making vendor availability limited.
The best advice we feel our clients should know is that it's never too early to find your caterer.
Availability as well as staffing are limited no matter who your team is and we recommend looking for your caterer as soon as you have booked your Venue.
We here at Jackson Catering would love the opportunity to work with you on your special day, we still have openings for this year and have plenty of availability for 2023! Feel free to check out our website and submit an inquiry online."
Liquid Refreshments
Don't let your bartender an afterthought in creating a purposeful wedding day experience for your guests. Carla with Horsing Around Events advises couples to book your bar services a lot further out than you would think.
"One of the biggest changes we've noticed for our company post pandemic, is the need for an extended reservation time. Planners used to recommend reserving your bar services 6 to 7 months before your wedding date.
Because so many events were being canceled and/or rescheduled, due to Covid 19, couples really need to reserve their vendors 12 months in advance.

An extended timeline will also give your preferred vendor any extra time needed to order and stock products that now have longer shipping times. Don't worry about having the exact guest count before reserving. A good vendor will work with you and make changes to your custom quote when details are solidified.
If the pandemic taught us anything, it's to be flexible and creative with our clients and their special events. My recommendation is don't wait! Just like your venue, the bartending service you prefer needs to be booked right away. This takes away some of the stress and worry during the planning process. Allowing you to sit back, have a few cocktails and enjoy your day with your family and friends."
---
Wedding Day Memories More Priceless
Everyone you love –together "under one roof" at the same moment in time is a rarity in it of itself. But the reminder of the Covid where every moment could be your last with that person –puts a greater emphasis on your wedding day memories. The #1 thing you should not skimp out on your wedding day is photo and video.
Photography
It's no surprise that just like everyone else, quality wedding photographers are scarce. Moreso now when planning a wedding post pandemic.
As a Sacramento Wedding Photographer specialist, I highly recommend figuring out what is a priority to you two in your wedding first before doing any research. Then from there prioritize the wedding vendors that directly affect each of those things that matters to you two the most.
RELATED POST: How to Find a Wedding Photographer Guide
In searching for a wedding photographer, I would utilize your wedding planner and wedding venue to procure a list (or maybe your wedding planner can do most of the leg work for you) to see who has the style you like and who is even available for your wedding date.
It's okay to be picky about the photographer (and videographer) you go with. Because at the end of the wedding day experience, your tangible wedding memories are all you'll have left.
Videography
Wedding videographer Katlyn Boone urges engaged couples planning their wedding post pandemic to remember your wedding video memories.
"It seems like more than ever, couples are feeling the value of videography for their wedding day. Because of reschedules and the wedding boom (we see it coming!), videographers are booking up quickly, or fully booked for 2022.

If you're wanting to book your dream videographer for this year, do reach out as soon as you can! You can ask your photographer or wedding planner who they've enjoyed working with.
Having a videographer who works well with other vendors is important for a stress-free experience!"
---
Why Hiring a Wedding Planner will Give You the Advantage
Let me know if you can relate to this. Many engaged couples commonly think that hiring a wedding planner is extra and not necessary.
Planning one wedding is difficult enough. But imagine plan your wedding 3-5 different times. With possibly different wedding venues, vendor teams, and number of guests allowed to be present, etc.
With COVID forcing couples to either pivot and relocate/re-plan their wedding last minute, or postpone their wedding date all together, I guarantee you that the couples that did not hire a wedding planner regretted not doing so.
Wedding planner and coordinator Amy with Goodstock Productions, answers 3 common questions as to why you need a wedding planner in 2022 and beyond.
First, what does an event planner even do?
We structure the event, coordinate the moving parts, ask the questions you don't think to ask, and handle a ridiculous amount of emails, texts and phone calls.
A short list of things we do are: rental management, creating monthly checklists, budgets, design mood boards, site plans, timelines, and reviewing contracts… especially helpful when cancellation and postponement clauses are a concern.
Hiring a planner is an advantage now more than ever before, with an anticipated 2.5 million weddings expected to take place in the U.S. alone (The Wedding Report). Now in the third year affected by COVID, so many couples are tying the knot, that venues and vendors (DJs, florists photographers, etc.) are booking up faster than ever before.
We've worked 12+ hour days, on our feet, in masks.
We've coordinated to get covid test results from a team of 15 vendors the week of the wedding.
We've learned and relearned state, county, and venue guidelines.
We've been in the trenches.
Saving You Time, Money & Stress
First objection you might have is, "I'm Organized, Can't I Just do Things Myself?" Some things shouldn't be DIY'ed.
Hiring an event planner saves you stress, time, and money. Planning an event requires countless hours of researching, communicating, delegating, and scheduling- we do this so you don't have to!
Save you money? We can! We know what things cost, can prioritize what is most important, and where corners can be cut. Budgeting is especially important now, with the cost of weddings spiking 10-15% from 2021 due to the increased demand.
Doing the Dirty Work so You Don't Have To
Second objection you might have is, "My venue has a coordinator, so I don't need an event/wedding coordinator."
Actually… you do. A Venue Coordinator is NOT the same as a Wedding or Event Coordinator. Simply put, the Venue Coordinator only manages things related to the venue (i.e. vendor guidelines, accessibility, maintenance, parking, etc.)
A Wedding or Event Coordinator manages EVERYTHING ELSE surrounding your special event!
We're on site throughout the day of, managing set-up, break-down and everything in between, so that you and your guests can enjoy yourselves.
We know tricks to make things work in a pinch, and we aren't afraid to get our hands dirty.
We're like your friend's cool mom- making sure everyone is prepared and safe, but with style (and snacks).
We plan for the best, but prepare for the worst. We think on our feet, and can execute a 'plan B' if needed.
---
Alright, there you have it! Ten wedding vendors' advice to help you successfully plan your wedding in our post pandemic age.
If you need any additional help, advice, or comments –feel free to reach me at karissa@karissawrightproductions.com